Weeping Tile Installation in NYC
How Choosing The Right Weeping Tile System Can Make All The Difference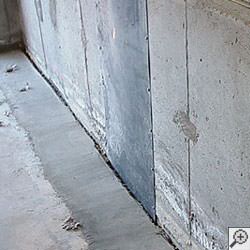 Installing a weeping tile system is an important investment in the value of your home.
Hiring the wrong contractor or choosing the wrong system can lead to a flooded basement and a major eyesore along the edge of your floor.
Choosing the right weeping tile system (also known as a "French drain") for your home can mean the difference between a clean, dry basement and one that's flooded.
Like most other technologies today, weeping tile has come a long way in the past few years. Modern installations install more quickly and have better results than ever before.
Which Weeping Tile Systems Are Best?
Waterproofers know that the best weeping tile systems depend on these five factors:
A Clog-Resistant Design
Can Drain Water Leaking From The Walls
Does Not Rely On Filter Fabric
Has A Large Outlet Draining To A Sump
Causes No Structural Damage To Your Home
At Quality 1st Basement Systems, we're proud to say that the drainage systems we provide meet all of these standards -- and we stand by our systems with a written, transferable warranty.
The DOs and DON'Ts Of Weeping Tile
If you're planning on finishing your basement or using it as storage, you'll want to be able to rely on it to be a dry, usable space -- and stay that way. If you can't count on that, then you probably won't feel comfortable keeping valuable or irreplaceable items there, such as photographs, furniture, or winter clothing.
To help you decide which system is best for you, we've compiled a list of Weeping Tile "DO's and DON'Ts" that we've seen many other homeowners learn about the hard way.
Which Weeping Tile System Should You Choose?
It's important to remember that all basement water problems are different, and there are many challenges that a waterproofer faces when designing a system.
We have six different drain systems, many specialized to address a specific challenge that we encounter when waterproofing a basement. The chart below will give you some pointers on which of our weeping tile systems might be right for you. Click on the name of each system to see what it looks like and learn what it can do for you.
Weeping Tile Application Chart

Generic Drain
WaterGuard®
DryTrak®
TrenchDrain
WaterGuard® IOS
FlowGuard
SmartPipe™
Directs Water
To Sump Pump
Installs From
The Interior
Installed Above The Mud Zone
Installs With An Open Gap Along The Floor
Lifetime Transferable Warranty
Designed For Monolithic Floors
Appropriate For Thin Basement Floors
Collects Water From Hatchway Entrances
Appropriate For Use In Basements With Iron Ochre Problems
Collects Water From Hatchway Entrances
We Install Warranted, Proven Weeping Tile Systems!
Quality 1st Basement Systems is your experienced contractor for the installation of a weeping tile system that's perfect for you -- no matter what your water problem is!
If you live in the New York area, we'd like to offer you a free weeping tile installation quote that's custom-designed for your basement. Each of our free quotes includes a personal inspection, cost quote, and a copy of our 88-page full-color waterproofing book. Contact us today to schedule your quote!
We proudly serve the New York City, Brooklyn, Bronx area, including Flushing, Staten Island, Manhattan, Queens, Elmhurst, Ridgewood, Astoria and many areas nearby.
Looking for a price? Get a no cost, no obligation free estimate.